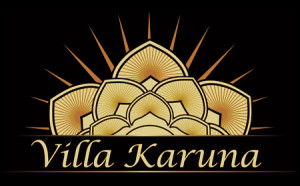 Villa Karuna Sayulita
A Tranquil Retreat in True Paradise
2 Bedroom 2.5 Bath Main Villa Sleeps 4-5 people
Optional: Casa SolAgua Bungalow
Bungalow style with King and Double Bed Sleeps 2-3 people
Villa Karuna is a two story 3000 sq ft. romantic, beautiful home and has been custom handcrafted throughout. Attention to detail is evident in the marble, onyx, granite and tile work in the kitchen and the bathrooms, as well as in the artwork, the statues and surrounding beautiful gardens. Located in one of the last remaining tropical jungles by the sea in Mexico, Villa Karuna, sits high on a jungle ridge overlooking the Pacific Ocean. The beautiful, expansive view includes magnificent sunsets over the sea as well as an ongoing bird watching opportunity.
Villa Karuna is ideal for 2 couples or a family that wants a spacious, beautiful and quiet place to spend their vacation time. If you have additional friends or family, there is a Bungalow on the property as well. The main house sleeps 4 and Casa SolAgua Bungalow sleeps 2-3(with an additional bed). Another unique feature of the property is the amazing bird watching and chorus of bird sounds, which you hear echoing throughout the jungle. During the winter months you may see whales or dolphins spouting as they play along their migration route. You might also see all the amazing fireflies at night. The gorgeous tropical flowers are ever abundant along with the wide variety of butterflies living here. It is just 15 minute walk down the path, through the jungle, past our huge bamboo grove, to the glorious beach right below the house. The absolute serenity, the ocean views, the heart shaped infinity pool, the waterfall, the vibrant jungle, the flower and food gardens, bird watching and the gorgeous sunset views are the highlights of this 7-acre private estate.
Villa Karuna was designed to increase your connection with nature by bringing the outside inside. The entire ocean side of the house uses bi-fold local wood framed glass doors as walls so you can enjoy the open air or close them and still see the magnificent view of the ocean and sunsets. Although the gentle breeze keeps the rooms cool, air conditioning is available in each of the suites.
View Photos of The Main 2 Bedroom Villa Here
View Photos of Casa SolAgua Bungalow Here